In recent years, the online world has witnessed the rise of misinformation and propaganda, with various entities utilizing digital platforms to advance their agendas. One such entity is the Twitter account @SouthAsiaIndex [archived], operating from Pakistan and disseminating anti-India propaganda through fabricated stories and biased reporting under the guise of the South Asia Index. Despite presenting itself as a source of news, graphs, and statistics related to South Asia, this account has frequently been caught manipulating facts and promoting a pro-Pakistan narrative.
Our organization, D-Intent Data, a centre dedicated to propaganda and fake news detection, as well as a new data research organization focusing on neutral fact-checking and intent analysis, has conducted a thorough investigation to expose the truth behind the South Asia Index.
How Involved in Anti-India Activities
For a considerable period, the @SouthAsiaIndex account focused on propagating misinformation about Indian defence forces, India's sovereignty and integrity, internal issues, foreign relations, and more. Notably, the account was actively involved in shaping narratives during the India-Canada diplomatic tensions. Here is a small glimpse of some of the misleading narratives and fake news this account propagated against India. [Click to see the tweets]
Genesis of Nadia Joseph
The origins of the South Asia Index can be traced back to the end of 2019 when it operated under the account name of Nadia Joseph (@JosephNadia__). At its beginning, this account posed as a crypto investor, to garner followers. Interestingly, it also promoted seemingly unrelated products, such as "Air Fryer," as part of its strategy to increase its follower count. Moreover, the South Asia Index like every Pakistani, has cowardly and secretly removed all previous conversations (click here and here to view). Nevertheless, the tweet's archive remains accessible, click here to see it.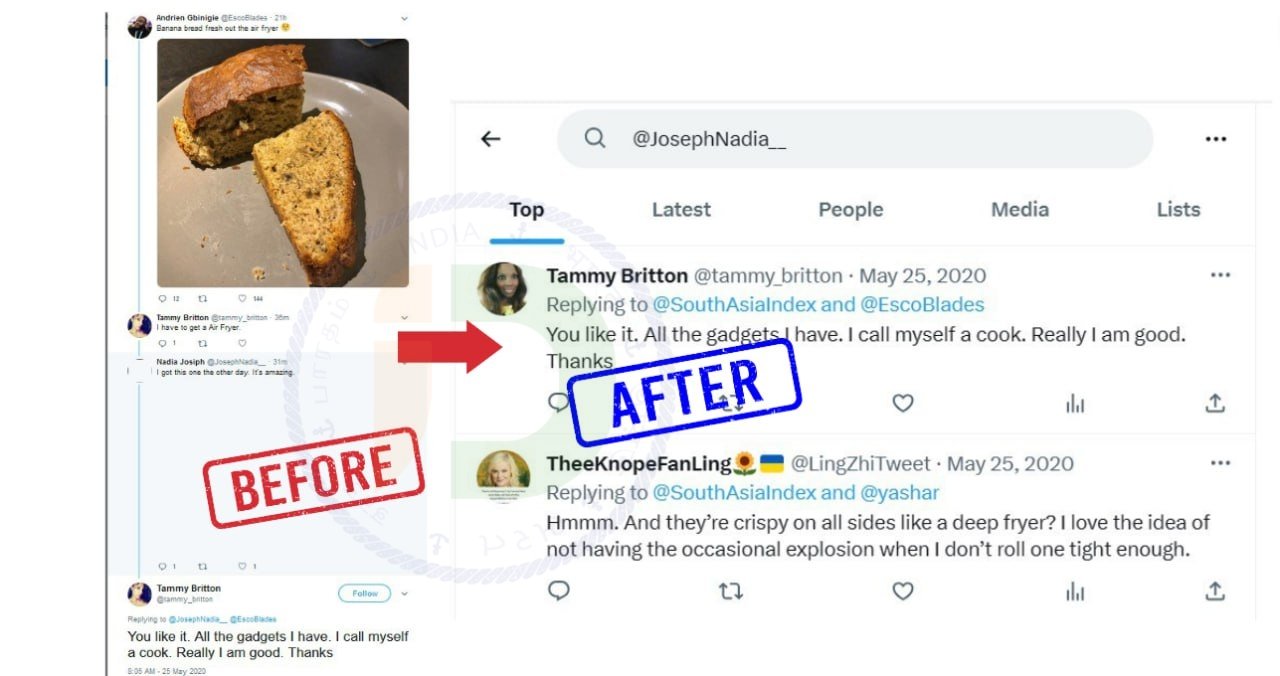 The Transformation: From Nadia Josiph to Saima Momin
As time progressed and the follower count grew, the account became @SaimaMomin_ between 2020-21. The account engaged itself in numerous interactions with Pakistani Twitter users, showcasing a clear Pakistani inclination. Notably, one such interaction was observed with a Pakistani user @ZarrarKhuhro (PRESENT; [Archive]) regarding the lynching of Sri Lankan man Priyantha Kumara in Pakistan. Interestingly, the account still talked about Crypto Currencies, one such interaction was observed with a Pakistani user @khan_sohil19 (Present; [archive]). In addition, we also observed interactions with @AtotheK267, @Rafia_fl [archive], and @GreysonSupertr1.

Rebranding Propaganda again into the South Asia Index
Towards the end of 2021, a transformation occurred, and the account transitioned from @SaimaMomin_ to @SouthAsiaIndex, embarking on a campaign of spreading fake news and fabricated propaganda against India. Intriguingly, the same false narratives were circulated by pro-Pakistani accounts affiliated with the army establishment, Imran Khan's PTI party, ISI-backed accounts, and Pakistani OSINTs.
Interestingly, the first tweet on December 26, 2021, just after becoming the 'South Asia Index' was a venom against India, where the account alleged that a church was vandalised in Ambala, Haryana on the eve of Christmas. The same tweet was instantly promoted by pro-Pakistani accounts such as @Rubina55Aziz [archive], @Ahmed_trends [archive], @Maveric90940352 [archive] and @meHassan_96 [archive].
India: Historical statue of Jesus Christ, built in Ambala, Haryana in 1843, has been vandalized by Hindutawa mob on the eve of #Christmas. pic.twitter.com/P5Cv2bIp5D

— South Asia Index (@SouthAsiaIndex) December 26, 2021
The Truth of Shared Twitter ID
In an effort to validate our findings, we conducted a comprehensive analysis to verify the Twitter ID (X), and astonishingly, we discovered that the Twitter ID "1206557922546913287" was uniform across all three phases: @JosephNadia__, @SaimaMomin_, and the present @SouthAsiaIndex. This revelation affirms the singular nature of these accounts.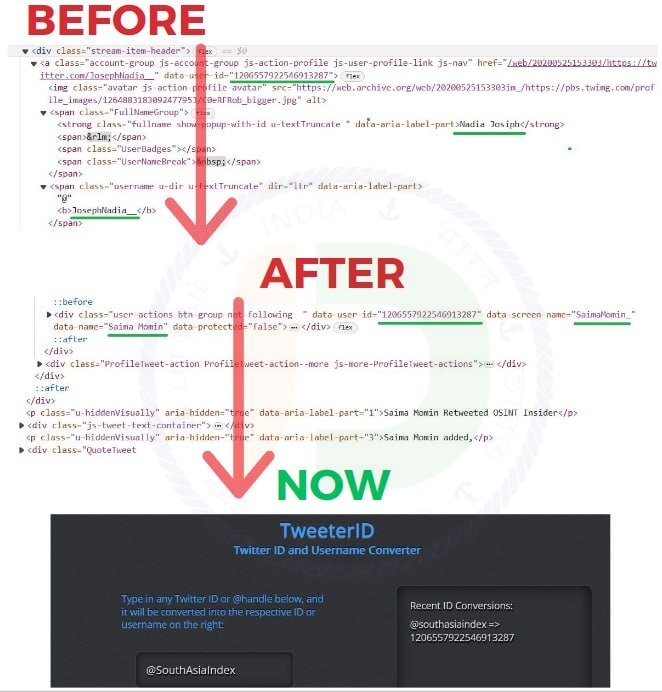 D-Intent Data: Defenders of Truth
Our organization, D-Intent Data, takes pride in meticulously researching and exposing biased accounts spreading misinformation and religious hatred propaganda under false identities from Pakistan. Moreover, we will continue to work for India and will continue to expose anyone who hurts India's interest. Previously, we unmasked similar Pakistan-based accounts promoting propaganda, such as @DalitOfficial and @SAHR_Watch, shedding light on their false agendas. It is a stark revelation of how a nation on the brink of economic collapse channels its focus towards false narratives and agendas. To know more about the Pakistani account, @DalitOfficial, click here.
A Fake Pakistani🇵🇰 account impersonating a Minority Rights Activist and an Indian Chemistry Teacher based in Kota, Rajasthan, Circulating Fake news about the Indian Army and security forces. Trying to create unrest in the country. (1/6)
Here is the reality behind this account. pic.twitter.com/bwDSp79OJd

— D-Intent Data (@dintentdata) September 19, 2023
Actual story of a #PakistaniGirl running South Asian Human Rights Watch (SAHRW).
An account impersonating "SAHRW" organization circulating multiple old videos with fake claims to target India. In reality she belongs to #ISPR team, guided for this project for long.(1/13)
A Thread- pic.twitter.com/61hOk4dfG6

— D-Intent Data (@dintentdata) March 31, 2023
Conclusion
Regrettably, it appears to have become a regular practice for certain elements in Pakistan to create fake accounts funded by ISPR or the propaganda wing of the Pak Army to spread misinformation. It is disheartening to witness such activities by the Pakistani Army and the Government while the common people in Pakistan face economic challenges, including shortages of essential commodities like flour, wheat, vegetables & medicines. India has reached the moon, but unfortunately, our neighbour is still trying to enter Kashmir. While India is one of the largest economies in the world with GDP growing at a phenomenal rate, Pakistan continues to decline and doom.
The unmasking of the South Asia Index lays bare the lengths some entities go to spread misinformation and shape false narratives, particularly aimed at destabilizing India. Following comprehensive analysis and meticulous fact-checking, our team has investigated the claim. You can refer to the findings of this inquiry in the Twitter thread embedded below.
The journey of @SouthAsiaIndex ,a 🇵🇰Pakistan-based propaganda account that runs anti-India propaganda through invented stories and biased reporting under the name of South Asia Index. (1/7)

The account is run by a Pakistani, explosive thread – pic.twitter.com/nvuSQuZLz0

— D-Intent Data (@dintentdata) September 22, 2023
Read Also: A Pakistani Impersonating an Indian Citizen Circulate Fake News About Indian Army Has Been Uncovered