Yesterday, a fake Pakistani Twitter account (@DalitOfficial), posing as an Indian Minority Rights Activist and an Indian Chemistry Teacher based in India at Kota, Rajasthan, circulated fabricated news about the Indian Army and security forces. The account aimed to incite unrest in India, spreading false and misleading claims such as the replacement of Sikh security personnel at Rashtrapati Bhavan due to Canadian PM Justin Trudeau's allegations of Indian government involvement in Khalistani Terrorist Hardeep Singh's assassination. Additionally, it falsely alleged that the Indian Army was denying leave requests to Sikh soldiers, following that Prime Minister Modi could be the next victim of an assassination plot, repeating the tragic history of Indira Gandhi's assassination. Indira Gandhi was killed by her two Sikh Bodyguards.
When the false news went viral on social media, the Indian Army came forward and said that whatever was mentioned in the tweet was false and that we should be aware of such malicious propaganda by anti-India agents.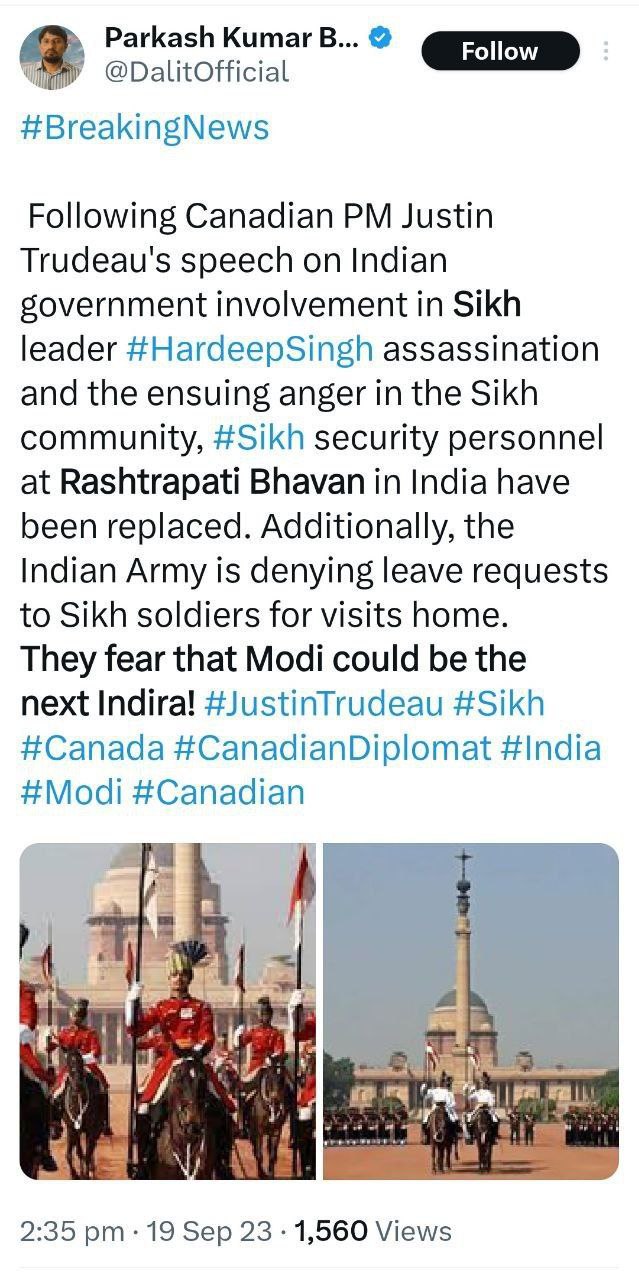 The source of this alarming fake tweet came from an account located in Karachi, Pakistan. This account had a history of spreading fake news and propagating hateful narratives, often targeting India. Our analysis, conducted at 'D-Intent Data,' a Propaganda and Fake News Detection Center committed to unbiased fact-checking and intent analysis, shed light on the true intentions of this malicious account.
Impersonation Across Borders
The person yesterday also tweeted an old clip of a few Sikhs protesting against the R&AW in Amritsar for the killing of Khalistani Terrorist Nijjar in Canada. He shared the clip of July with the only aim of inciting violence and provoking the Sikh community against the Indian state. We found that the actual video of the incident was uploaded on YouTube on 1st July 2023.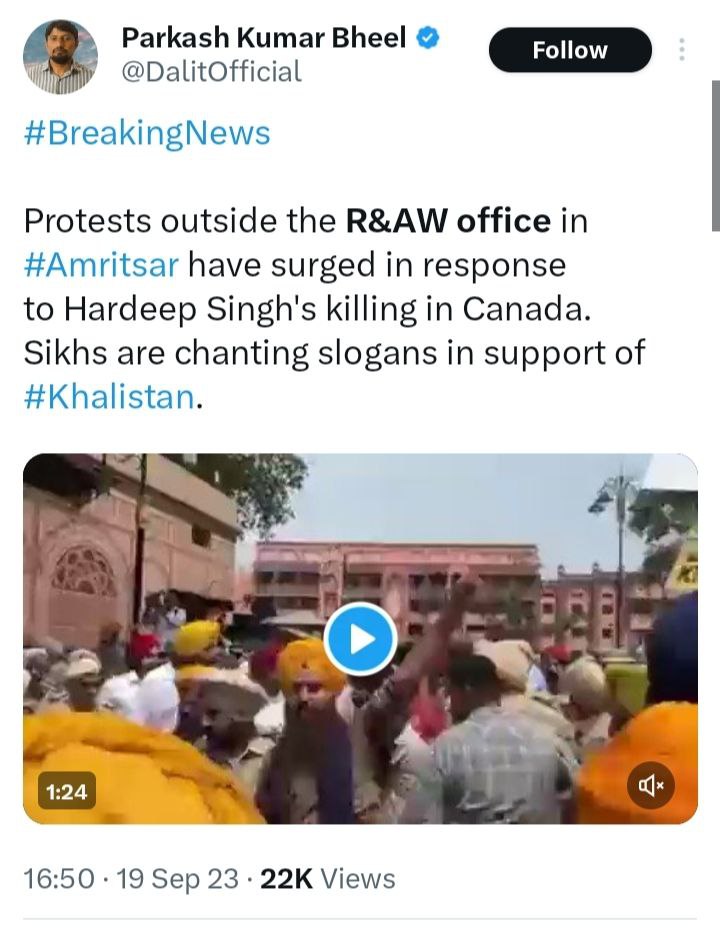 This deceptive Twitter account, previously operating under the name @ImranBajwaPak, exhibited a consistent pattern of anti-India sentiment and praised Pakistan in various tweets. Our investigation uncovered numerous interactions with Pakistani individuals, raising suspicions about the true identity and purpose of the account.
Previously, this account was named @ImranBajwaPak, with several tweets portraying anti-India hate and praising #Pakistan and numerous interactions with Pakistani people. (3/6) pic.twitter.com/Yhi6W6sTOW

— D-Intent Data (@dintentdata) September 19, 2023
Further investigations revealed that the account's timeline included old tweets in Urdu, originating from the previous @ImranBajwaPak identity. These tweets were related to Pakistan's internal politics. Remarkably, the account owner forgot to delete these older posts.
Upon research, we found several old tweets in Urdu on his timeline about Pakistan that were tweeted from his old account, but he/she forgot to delete those old tweets/posts. (4/6) pic.twitter.com/mWFhg2B9uA

— D-Intent Data (@dintentdata) September 19, 2023
Our thorough research conclusively linked both the @ImranBajwaPak and @DalitOfficial account through a shared Twitter ID number, "761187966702252032." Consequently, it became evident that both identities were indeed operated by the same individual. Notably, the account has since been deleted, with the page displaying the message "account does not exist."
We did a more detailed analysis to verify the Twitter ID, and we found the same ID number "761187966702252032", for the previous @ImranBajwaPak and current @DalitOfficial . Hence both are the same account. (5/6) pic.twitter.com/s8M12Zgxsn

— D-Intent Data (@dintentdata) September 19, 2023
Pakistani Twitter Accounts in India: A Disturbing Pattern
This is not an isolated incident and this incident is also not the first time D-Intent Data has uncovered such false propaganda accounts. Earlier, we exposed a fake account posing as a South Asian Human Rights Body, operating under the account name @SAHR_Watch. This Pakistani propaganda Twitter account circulated fabricated videos with false claims, targeting India and the BJP-led Indian Government's reputation.
Upon deeper investigation, we discovered that the Twitter ID number for archived tweets from @hawyysachiiii matched that of the current @SAHR_Watch account, confirming the impersonation. Notably, the individual behind @SAHR_Watch was identified as a Pakistani named Isra, who had failed to delete her old tweets before assuming her new identity. To know more about the account, kindly check out an amazing thread embedded below.
Actual story of a #PakistaniGirl running South Asian Human Rights Watch (SAHRW).
An account impersonating "SAHRW" organization circulating multiple old videos with fake claims to target India. In reality she belongs to #ISPR team, guided for this project for long.(1/13)
A Thread- pic.twitter.com/61hOk4dfG6

— D-Intent Data (@dintentdata) March 31, 2023
A Persistent Threat
D-Intent Data has a history of revealing such fake propaganda accounts designed to sow discord and manipulate public sentiment. These Pakistani propaganda Twitter accounts often employ emotional manipulation, false narratives, and the exploitation of existing divisions to advance their malicious agendas against India and Indians.
Regrettably, it appears to have become a regular practice for certain elements in Pakistan to create fake accounts funded by ISPR or the propaganda wing of the Pak Army to spread misinformation. It is disheartening to witness such activities by the Pakistani Army and the Government while the common people in Pakistan face economic challenges, including shortages of essential commodities like flour, wheat, vegetables & medicines. India has reached the moon, but unfortunately, our neighbour is still trying to enter Kashmir. While India is one of the largest economies in the world with GDP growing at a phenomenal rate, Pakistan continues to decline and doom.
India's Ongoing Vigilance: Conclusion
The impersonation of Indian identities by hostile actors across borders such as by this Pakistani propaganda Twitter account, particularly by those with vested interests is a growing threat to India and cannot be ignored. India has been a frequent target of disinformation campaigns orchestrated from across the border. These campaigns often involve the spread of false or misleading information aimed at creating discord, inciting violence, or damaging India's reputation. The recent episode involving the fake account @DalitOfficial serves as a stark reminder of the importance of fact-checking, vigilance, and responsible social media usage. As we continue to navigate the digital landscape, distinguishing between authentic and fabricated information remains paramount. Following comprehensive analysis and meticulous fact-checking, our team has investigated the claim. You can refer to the findings of this inquiry in the Twitter thread embedded below.
A Fake Pakistani🇵🇰 account impersonating a Minority Rights Activist and an Indian Chemistry Teacher based in Kota, Rajasthan, Circulating Fake news about the Indian Army and security forces. Trying to create unrest in the country. (1/6)
Here is the reality behind this account. pic.twitter.com/bwDSp79OJd

— D-Intent Data (@dintentdata) September 19, 2023
Read Also: A Look At The Propaganda And Success of the G20 Summit