A few days ago, news outlets, including 'The Times of India,' [Archive link of the deleted article] erroneously reported that Indian cricketer Virat Kohli and Bollywood actress Anushka Sharma were planning to construct a cricket pitch within their Alibaug farmhouse. Responding firmly, Virat Kohli addressed the matter on his Instagram story, stating, "Bachpan se jo akhbaar Padha hai, wo bhi fake news chaapne lage ab" (The newspaper which I have read since childhood, have also started publishing fake news). He posted a screenshot of the erroneous report and expressed his disappointment over the propagation of fabricated news. This misleading information was further circulated by renowned news portals like odishatv.in [archive], www.bollywoodshaadis.com [archive] and many more.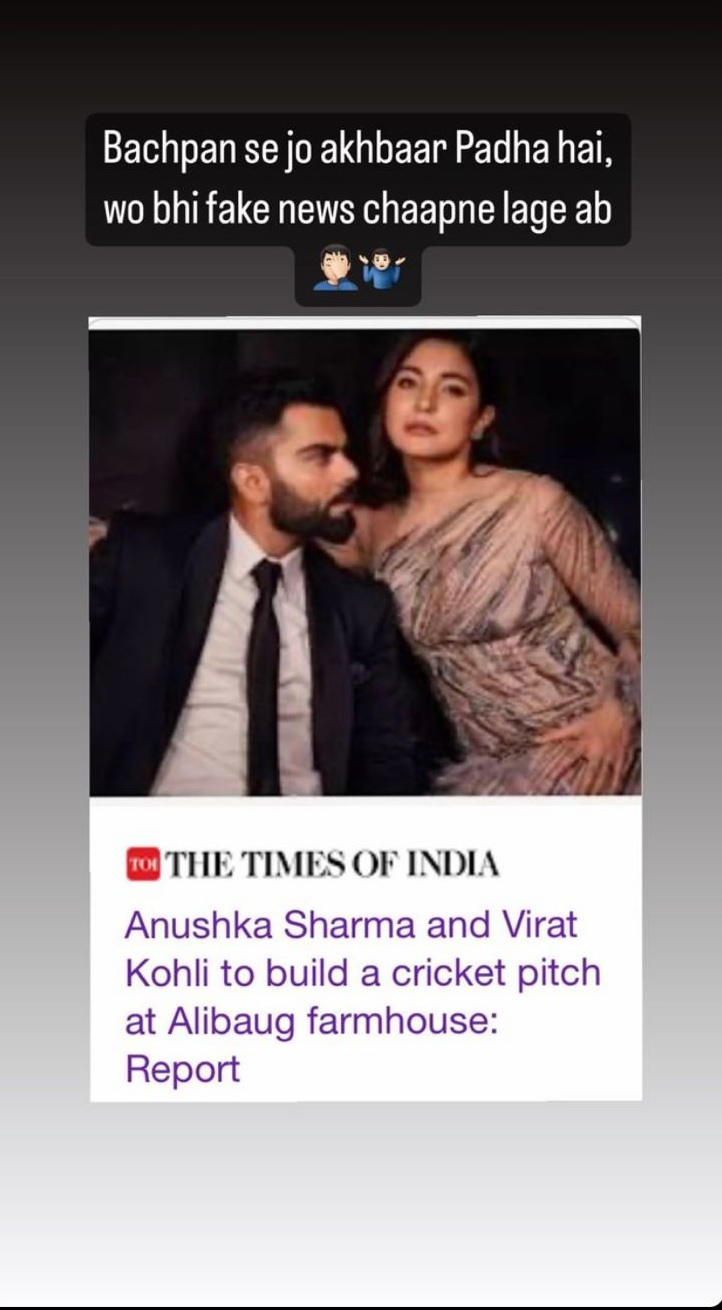 Clarification of the Situation
In reality, Virat Kohli and Anushka Sharma have acquired an expansive eight-acre plot near Zirad village in Alibaug through separate transactions amounting to approximately Rs 19.24 crore for the construction of their farmhouse. However, there is no indication whatsoever of their intention to build a cricket pitch on the property. Kohli, known for his active engagement on social media, promptly and emphatically corrected the misinformation, labeling the report as "false news."
Past Incidents of Misinformation
This incident is not the first time that false reports have targeted Virat Kohli. In the past, there were incorrect claims circulating about his social media earnings. Kohli clarified that he did not earn the purported Rs 11.4 crore per sponsored post through Instagram, countering the fabricated figures with the truth.
In a bid to attract attention and generate headlines, some media outlets published misleading reports about Virat Kohli and Anushka Sharma's farmhouse plans. Kohli's response underscored the need for accurate reporting and the potential consequences of spreading false information. As fans and followers of public figures, it is crucial to discern between authentic news and fabricated stories.  Following comprehensive analysis and meticulous fact-checking, our team has investigated the claim. You can refer to the findings of this inquiry in the Twitter thread embedded below.
Claim: Media outlets disseminated inaccurate reports claiming that Virat Kohli and Anushka Sharma were constructing a cricket pitch in their Alibaug farmhouse.
Fact: Virat Kohli categorically denied the existence of such plans, labelling the reports as "fake news." The couple's focus remains on the construction of their farmhouse, and there is no credible evidence to support the claim of a cricket pitch being built.
In our pursuit of accurate and unbiased information, we've diligently fact-checked the claims surrounding the incident. Misinformation can sow discord and disrupt communal harmony. Your support matters greatly in our mission to foster an informed and united society. Together, let's strive to make India and Indians proud, upholding truth and unity. Jai Hind.
Also Read: Two Intoxicated Men's Fight in Theatre During Gadar 2 Screening in Bareilly, Users Connect With Pakistan Zindabad Slogans: Fact-Check