A historic picture of the then-president of the Hindu Mahasabha, Vinayak Damodar Savarkar, meeting and shaking hands with a man is becoming viral on social media with a claim that the man is Pakistan's founder Muhammad Ali Jinnah.
The picture is being shared by @KirtiAzaad former cricketer and Member of Parliament on Twitter with the caption "देश के गद्दारों को… ईस्ट इंडिया कंपनी के पिट्ठू #Jinna और #Savarkar हाथ मिला कर भारत के टुकड़े करने की चर्चा पर 1942 में लाहौर में बैठक की// @BJPIndia के #ISI पाकिस्तानी जासूसों के गद्दारी के भी सबूत मिले हैं/"
This similar picture was shared by @sanjivbhatt on 6 May 2018 and quoted "Hindu Mahasabha of Savarkar and Muslim League of Jinnah, opposed the Quit India call given by Mahatma Gandhi. The two friends and political allies, preferred to join hands with the British, under the garb of the 'pragmatic politics'. Their descendants can't do without each other."
Fact-Check
Our team did thorough research and we found that the person shaking hands and meeting Vinayak Damodar Savarkar is not Muhammad Ali Jinnah but is Sir Stafford Crips. As a president of Hindu Mahasabha Vinayak Damodar Savarkar was received by Sir Stafford Cripps as a delegation of the Mahasabha in Delhi in March 1942. The picture was taken from the biography titled, "Savarkar and His Times (1950)".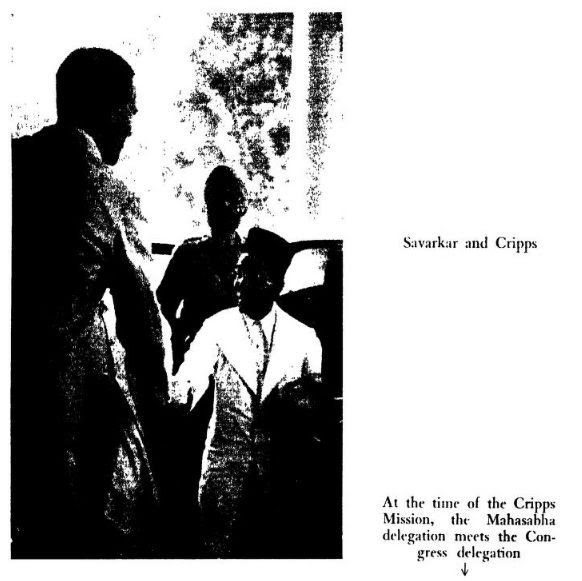 Taking this as a hint we searched further and found that several other political leaders also meet Sir Stafford Cripps under Cripps mission. Since several leaders rejected the provisions of the Cripps mission, it resulted in failure.
We also found another biography titled " Swatantryaveer Vinayak Damodar Savarkar" in which the same picture is there with the caption " Savarkar with Sir Stafford Cripps"
There is also a documented video on Youtube that proves that Vinayak Damodar Savarkar meet Sir Stafford Cripps as a delegation of the Hindu Mahasabha.
Thus, it is evident from the above information that the tweets along with the picture which claimed the person shaking hands and meeting Savarkar is Muhammad Ali Jinnah is totally misleading. The person in the picture is Sir Stafford Cripps.
Conclusion
Social Media posts that are posted without proper research and used for spreading propaganda may create tension in society. A particular community may get hurt by a factually incorrect post. The D-Intent team analyzed such posts and identify the misleading and factually incorrect posts circulating on social media.
Also, read: Miscreants in Dariapur, Bihar, Caught on Camera Molesting a Woman on a Bike – Old Video