A few days ago, a deeply troubling video surfaced, filled with offensive and provocative content against India, claiming that it was released by Shubh, a Canadian-based Punjabi singer known for his alleged support to separatist Khalistani elements. Pakistani accounts particularly by Pakistani journalist @ghulamabbasshah claimed it. The video emerged after one of Shubh's shows got cancelled due to his anti-India posts. However, our research reveals that the video was digitally altered, and pieced together using various visuals and voices to spread hatred. This misinformation was boosted by social media, further fueling tensions.
Amidst escalating tensions between #India and #Canada, famous Canada-based Punjabi singer and rapper Shubhneet Singh, (known as 'Shubh) Released New Song. #Shubh shared a distorted map of India on Instagram in March, amid the police crackdown against Sikh separatist leader… pic.twitter.com/0JNn3Ysxew

— Ghulam Abbas Shah (@ghulamabbasshah) September 21, 2023
Unravelling the Deception
Our investigation examined claims suggesting that Shubh released the video. Contrary to this, we found no such song on his official YouTube channel. The last upload was a month old, and no offensive content matching the circulated video was present. The truth is, that the nasty video was fabricated, aiming to incite hostility and deepen existing divides.
Sponsorship Withdrawal Sparks Controversy
Days before the video surfaced, a major consumer electronics brand, boAt, withdrew its sponsorship from Shubh's concert due to allegations of his support for Khalistani elements. This event, coupled with his controversial social media posts, triggered a furore within India. Members of the Bharatiya Janata Yuva Morcha (BJYM) protested. They accused him of supporting Khalistani elements, tearing down his posters, and demanding the cancellation of his shows in India.
Shubh's social media posts, particularly one depicting a distorted map of India without Punjab and Jammu and Kashmir, went viral and drew widespread criticism. The timing of this post coincided with the Punjab Police's pursuit of a fugitive named Amritpal Singh.
BJYM President Tajinder Singh Tiwana unequivocally stated, "There is no space for Khalistanis who are the enemy of the integrity and unity of India. We won't allow Canadian singer Shubh to perform in the promising and auspicious land of Chhatrapati Shivaji Maharaj, Mumbai."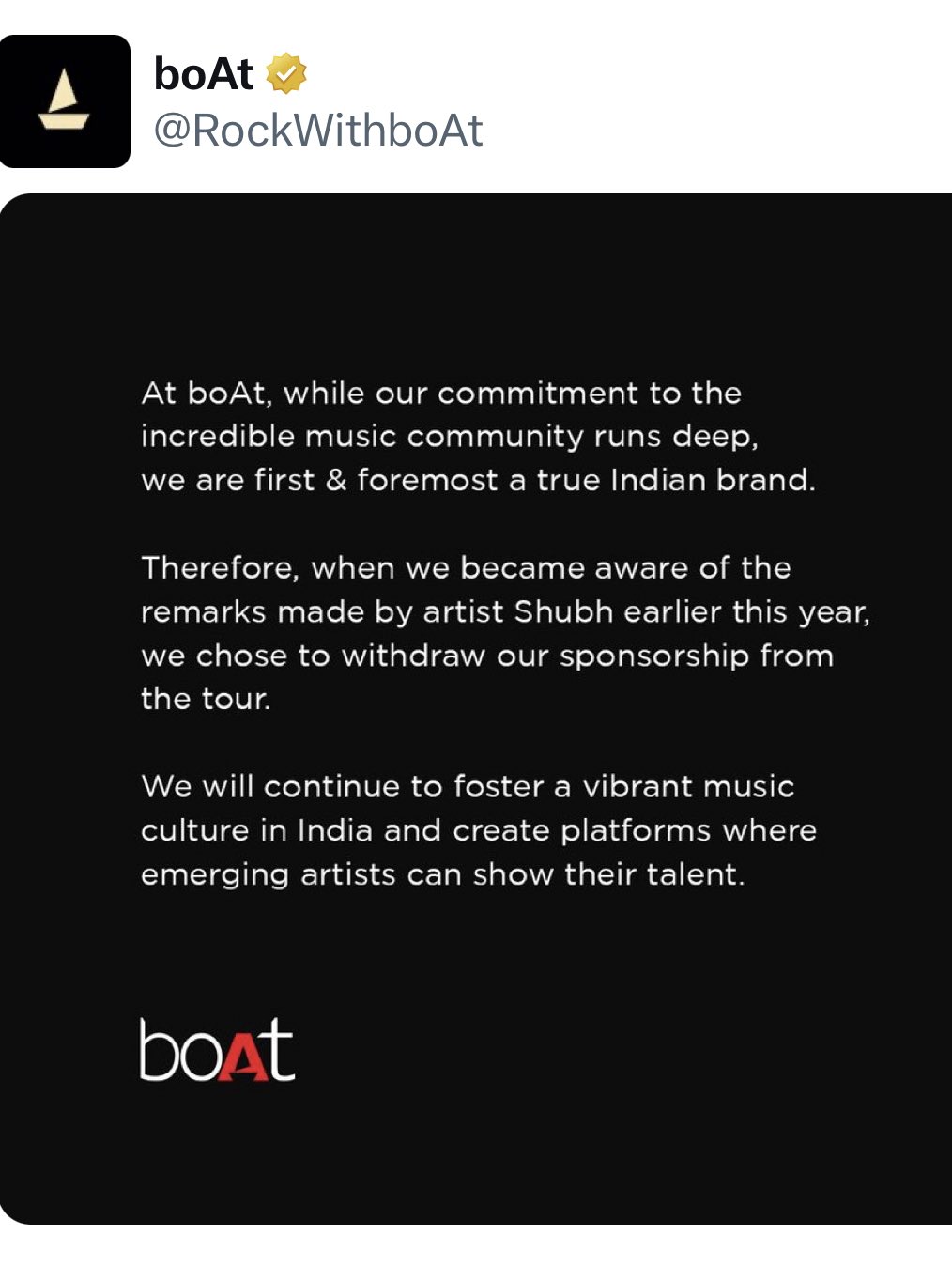 ⚡Mumbai, Maharashtra: Bharatiya Janata Yuva Morcha (BJYM) members remove posters for the upcoming event of Pro-Khalistani Canadian Singer #Shubh

Shubh has shared a distorted map of India in the past still he is allowed to tour India.

Bharatiya Janata Yuva Morcha (BJYM)… pic.twitter.com/JfS7TLB7sz

— Megh Updates 🚨™ (@MeghUpdates) September 16, 2023
As tensions escalated, Shubh's scheduled India tour faced cancellation, drawing widespread attention. Khalistani sympathizer and Canadian singer Shubh was scheduled to perform in Mumbai from September 23 to 25 as part of the Cruise Control 4.0 event, along with an extensive three-month-long tour across India, encompassing cities like New Delhi, Bengaluru, and Hyderabad. The cancellation was a result of his expressed support for the Khalistan cause.
After his India tour was cancelled, Shubhneet Singh expressed his disappointment on social media. Despite the cancellation, he took to social media to express his disappointment and justify his actions. He shared his aspirations to perform in India, his homeland, and the land of his ancestors who had made sacrifices for the country's freedom. Shubhneet clarified that his earlier social media post, which had caused outrage, was intended as a prayer for Punjab amid reports of electricity shutdowns in the state. He emphasized that he did not intend to hurt anyone's sentiments and expressed his deep dismay at the accusations against him.
A Larger Diplomatic Rift
The controversy surrounding Shubhneet Singh's cancelled tour is not isolated. It has coincided with heightened tensions between India and Canada. Canadian Prime Minister Justin Trudeau accused the Indian government of involvement in the fatal shooting of wanted Khalistani leader Hardeep Singh Nijjar.
India's Ministry of External Affairs (MEA) on September 19 rejected the allegations by the Canadian Prime Minister (PM), Justin Trudeau, regarding India's involvement in the killing of the Khalistani terrorist and the chief of Khalistan Tiger Force (KTF), Hardeep Singh Nijjar, in Canada. The MEA labelled these allegations as "absurd" and "motivated," emphasizing India's commitment to the rule of law. India also expressed concerns about Canada's sheltering of Khalistani terrorists and urged Canada to take legal action against anti-India elements operating on its soil.
The Union Ministry of Home Affairs had banned KTF, citing its intent to revive terrorism in Punjab and challenge India's territorial integrity, security, and sovereignty. Furthermore, an Interpol Red Corner Notice was issued against Nijjar in 2016. In 2018, local Surrey police briefly placed Nijjar under house arrest due to suspicions of his involvement in terrorism, but he was subsequently released.
Conclusion
The video circulating on social media, purportedly showing Shubh endorsing Khalistani elements, has been conclusively debunked as a digitally manipulated piece of propaganda. While Shubh faced backlash and sponsorship withdrawal over his controversial social media post, it is essential to understand the context and the singer's response. This incident also played out against the backdrop of strained India-Canada relations, with accusations and counter-accusations between the two countries. Following a precise analysis and fact-checking, our team has reviewed the claim. You can refer to the findings of this inquiry in the Twitter thread below.
1118
ANALYSIS: Fake

FACT: Pakistani accounts are circulating an offensive and provocative video song full of hatred propaganda against India, claiming that it has been released by khalistani sympathizer & singer #Shubh after his show got canceled amid his anti-India post. (1/3) pic.twitter.com/K357Fz0g60

— D-Intent Data (@dintentdata) September 21, 2023
Claim: The video circulated was released by Canadian-based Punjabi singer Shubh.
Fact: The video is digitally altered, and Shubh did not release the offensive content.
Also Read: Fact-Check: Computer-Generated Video of High-Speed Car Leaning Sideways and Overtaking Other Cars Circulated as Real