A few days ago, an image circulated on social media, claiming that Meitei militants had killed a valiant Assam Rifles jawan while he protected innocent Kukis in Pallel village in Manipur. Another user shared the same image, alleging that Kuki Militants in Pallel were responsible for the brave Assam Rifles jawan's demise. However, an investigation revealed that this image is unrelated to Manipur and the recent incident in Pallel. Instead, it dates back to a tragic event in Jammu and Kashmir in 2022. Two prominent accounts that shared the image with misleading claims were @Rmutum01 and @BenjaminMate1.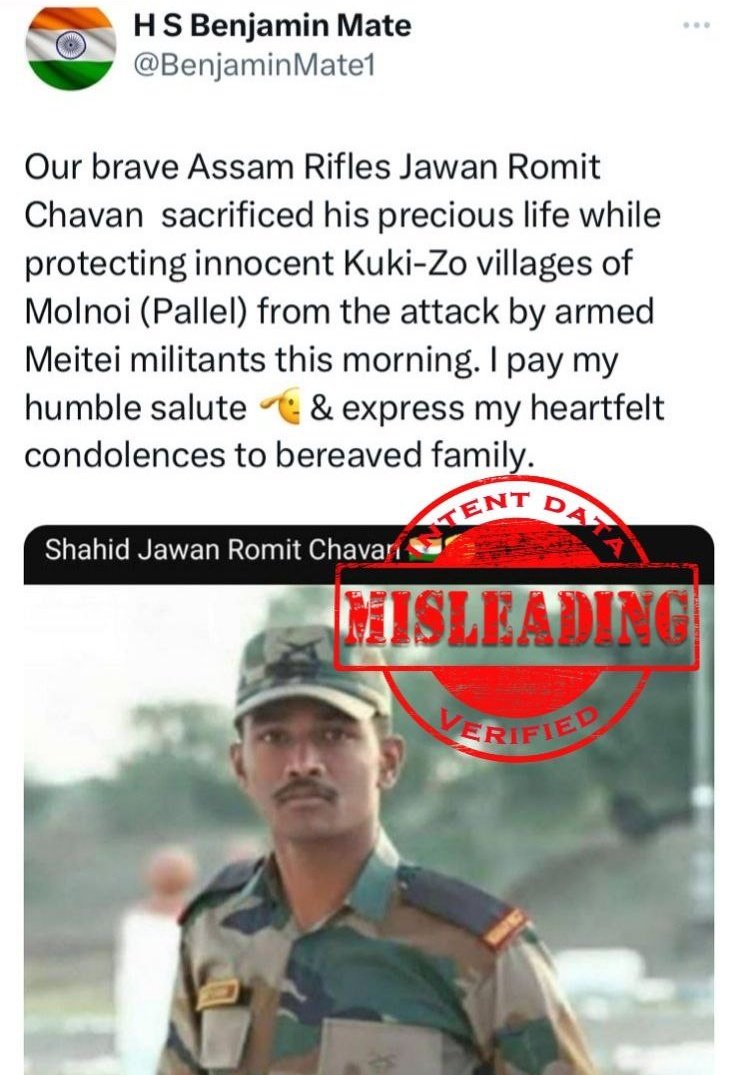 The Source:
This misinformation originates from an image of Sepoy Romit Tanaji Chavan, a soldier from 4 MAHAR, who lost his life in action in 2022. Terrorists in Shopian's Zainapora village, in Jammu and Kashmir, fatally wounded the soldier with bullets. Contrary to the misleading claims, Sepoy Romit Tanaji Chavan was not associated with Assam Rifles jawan, and his tragic incident occurred far from Manipur.
For those seeking more detailed information, The Times of India published an article covering Sepoy Romit Tanaji Chavan's sacrifice in 2022. [For the complete article, click here (archive) ]
The Verdict:
In conclusion, it's crucial to fact-check information before accepting and sharing it on social media. The image circulating with claims of an Assam Rifles soldier's death in Manipur is, in fact, a tragic image from Jammu and Kashmir in 2022. This misinformation seems to be an attempt to propagate a false narrative and should not be taken as truth. You can refer to the findings of this inquiry in the Twitter thread embedded below.
Claim: An image of an Assam Rifles jawan killed by Meitei militants in Pallel village in Manipur.
Fact: The image is from Jammu and Kashmir in 2022, where Sepoy Romit Tanaji Chavan lost his life to terrorist gunfire. It has no connection to Manipur or any Jawan of Assam Rifles.
Read Also: Old Video Of Malaysian Man Joseph Jerry Dressing Woman in Saree Circulated With Communal Claims