In recent times, a Nepalese Hindu journalist, Arun Budhathoki, residing in Canada, has been actively spreading propaganda & narratives that portray other South Asian Hindus in Canada as feeling unsafe amidst India-Canada tensions. This narrative has been a focus of his online presence, consistently targeting India and its involvement in various contexts. Moreover, this individual has been unmasked, revealing a complex web of propaganda and misinformation.
Arun Budhathoki: The Propagandist
Arun Budhathoki [Profile Archive] has often expressed his identity as a converted Christian through multiple tweets [Tweets Deleted, Click here, here and here to see achieve]. However, he suddenly shifted this narrative by claiming to be a Hindu from Nepal, residing in Canada for the past four years. He alleged a rising wave of Hinduphobia in Canada, particularly due to extremist Hindus from India creating false safety concerns for Hindus in the country. He implied potential violence between pro-Indian and pro-Khalistani factions in Canada. [Post Deleted, Click here to see archive]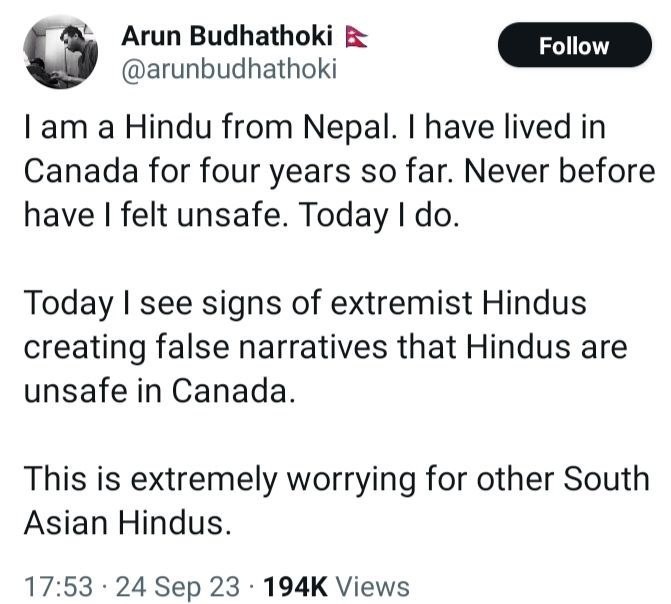 However, his narrative conveniently overlooks the documented instances of Hinduphobia in Canada, where Indian envoys face open death threats, the Indian community encounters violence and abuse, Hindu places of worship are vandalized, and Indian national symbols are desecrated. This raises questions about his agenda and selective portrayal of events.
Budhathoki's Apology and Rebuttal
After our organization's social media exposure, Arun Budhathoki apologized on Twitter. He removed earlier tweets, making it clear he didn't mean to offend Indian Hindus. Additionally, he emphasized his stance of not being anti-India or pro-China. Arun also specified his identification as a Hindu and his lack of affiliation with leftist political parties. However, these retractions came after significant dissemination of false narratives. [Archive (1/2) ; Archive (2/2)]
I am a liberal person and respect all religions despite being a Hindu and not a hate-monger nor part of any leftist political parties. I am being labeled as a propagandist, anti-Hindu, and anti-India…which is baseless. I apologize again for hurting your sentiments. 🙏🙏

— Arun Budhathoki 🇳🇵 (@arunbudhathoki) September 27, 2023
India-Canada Diplomatic Standoff
A diplomatic standoff between India and Canada unfolded after Canadian PM Justin Trudeau suggested India's involvement in the death of Khalistani terrorist Hardeep Singh Nijjar on Canadian soil. However, India has strongly refuted these claims and highlighted the need for Canada to address anti-India activities on its territory and respect India's territorial integrity.
Current Scenario: Hindus in Canada
The present situation for Hindus in Canada has taken a concerning turn due to politically condoned and motivated attacks by Khalistani elements, indirectly supported by the administration. The Indian Government has cautioned the Hindu community in Canada to remain vigilant due to a surge in hate incidents and gang violence.
"Indo-Hindu leave Canada; go to India. You not only support India but you are also supporting the suppression of speech and expression of pro-Khalistan Sikhs," said Sikh For Justice group's legal counsel and chief Gurpatwant Pannun in a video, which has gone viral. Pannun has been designated as a terrorist in India. Sikh For Justice was also designated as a terrorist group in India in 2019.
Vijay Jain, a spokesperson for Canadian Hindus for Harmony, expressed concern over Pannun's threat. "We are now seeing full-scale Hinduphobia out across the board."
Budhathoki's Nexus and Connections: Unmasking His Agenda
Arun Budhathoki's associations reveal connections with the core Marxist nexus and prominent figures known for their anti-India stance. Additionally, he has been spotted alongside Ishwar Pokhrel, Minister of Defense in the Second Oli cabinet, and Pushpa Kamal Dahal, the current prime minister of Nepal. These political figures are recognized for their anti-India positions, with Pushpa Kamal Dahal, also known as "Prachanda," signing multiple agreements [archive] with China during his recent visit to Beijing. Ishwar Pokhrel has displayed aggression against India in the past. Click here to visit the YouTube Archive.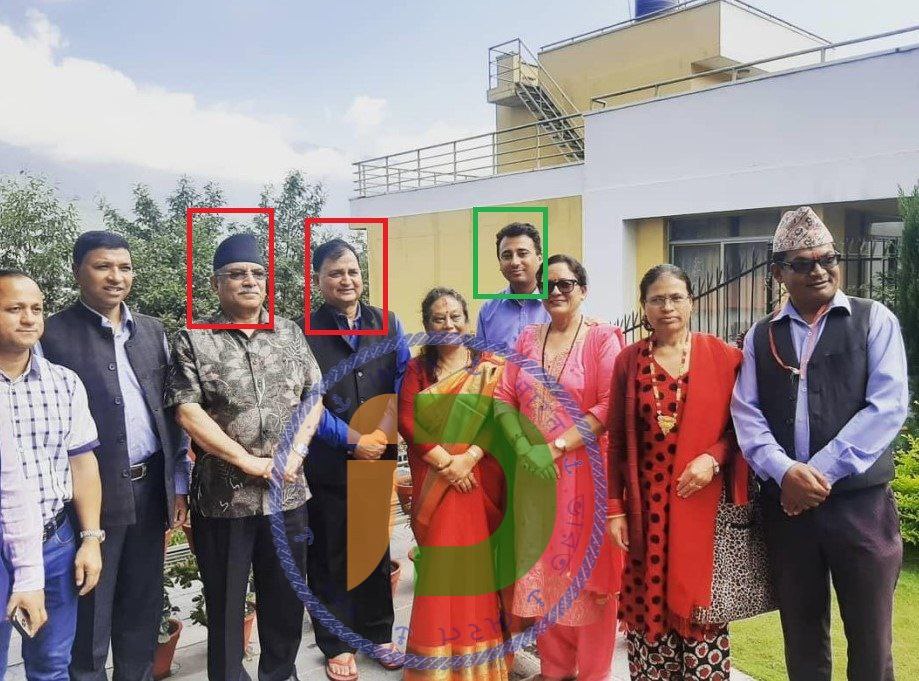 In addition to his political affiliations, Arun Budhathoki has contributed several times to Qatar-based anti-India propaganda news agency Al-Jazeera, known for its global anti-India narratives. He has also penned articles for TRT World, a Turkish news agency that frequently promotes anti-India content and also on many occasion have claimed that India's Union Territory of Jammu & Kashmir is part of Pakistan. Furthermore, he is a regular contributor to China's propaganda news media, with his anti-India articles appearing on the Hong Kong-based South China Morning Post. His views and intent are consistently hostile not only towards India but also towards Hindus from India, Nepal, and various locations.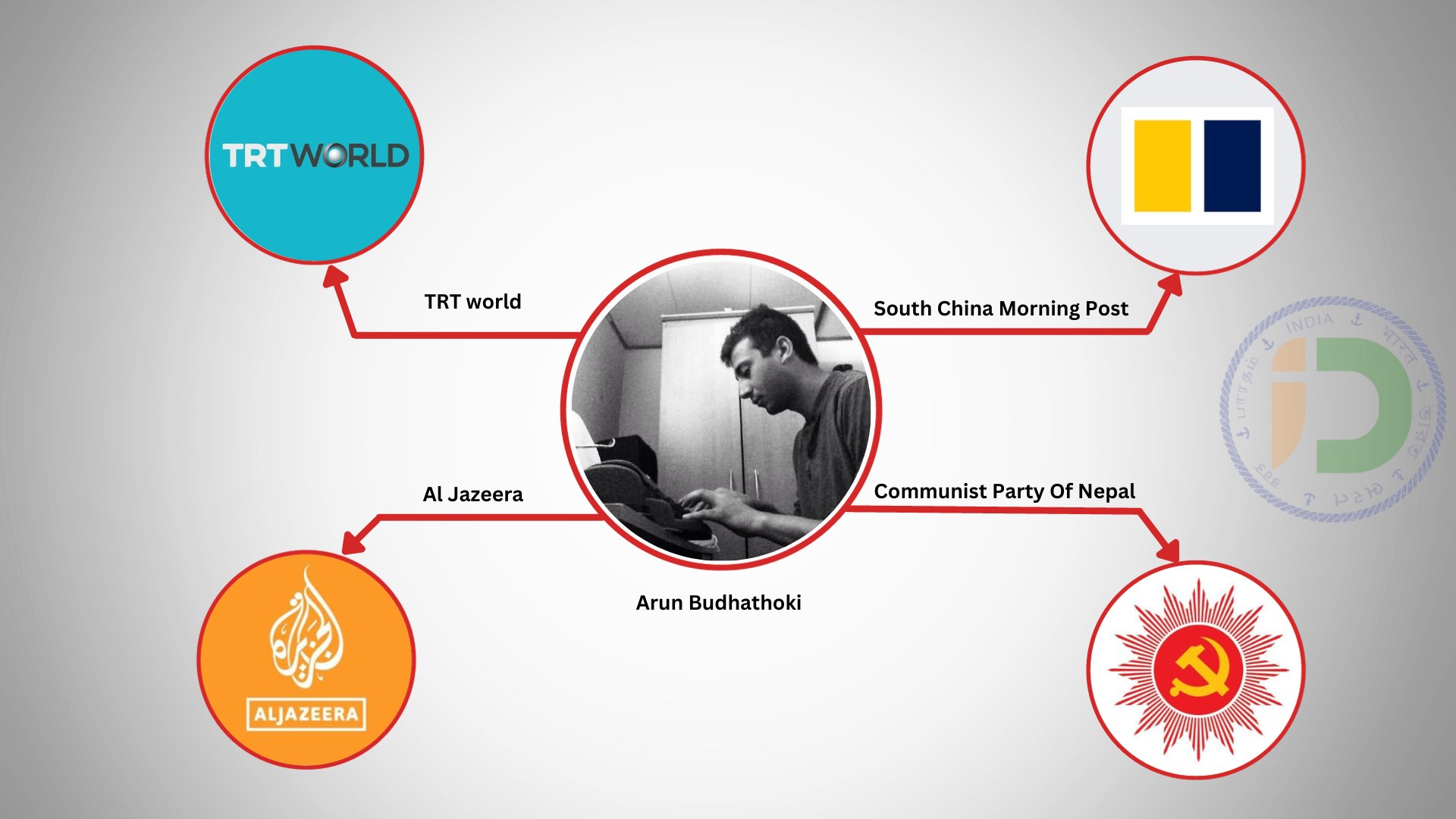 Arun Budhathoki's Involvement with Al Jazeera
Arun Budhathoki's association with Al Jazeera, a Qatar-based news agency, is noteworthy. Al Jazeera is known for its global reach and influence, but it has also faced criticism for promoting narratives that are often perceived as anti-India. He has contributed several articles to Al Jazeera, and some of these pieces have displayed an unmistakable bias against India. His writings on this platform have played a role in spreading narratives that paint India in a negative light, contributing to the agency's reputation for anti-India propaganda.
Arun Budhathoki's Role at TRT World
TRT World is a Turkish news agency that has been known to promote content that is critical of India. Arun Budhathoki's involvement with TRT World further highlights his association with outlets that have an agenda against India. On TRT World, Budhathoki has authored multiple articles that support China and criticize India. His writings on this platform have been aligned with TRT World's anti-India stance, contributing to the agency's efforts to shape international perceptions of India.
Arun Budhathoki's Contributions to the South China Morning Post
The South China Morning Post, headquartered in Hong Kong, closely aligns with China's interests and perspectives. Arun Budhathoki and his involvement with this publication underscores his willingness to contribute to outlets that serve China's propaganda objectives and hurt India and its interests. He has authored articles [archive] for the South China Morning Post that have consistently taken positions favourable to China and critical of India. His contributions to this outlet further emphasize his role in shaping narratives that support China's interests and influence global perceptions. His author profile, click here to see [archive].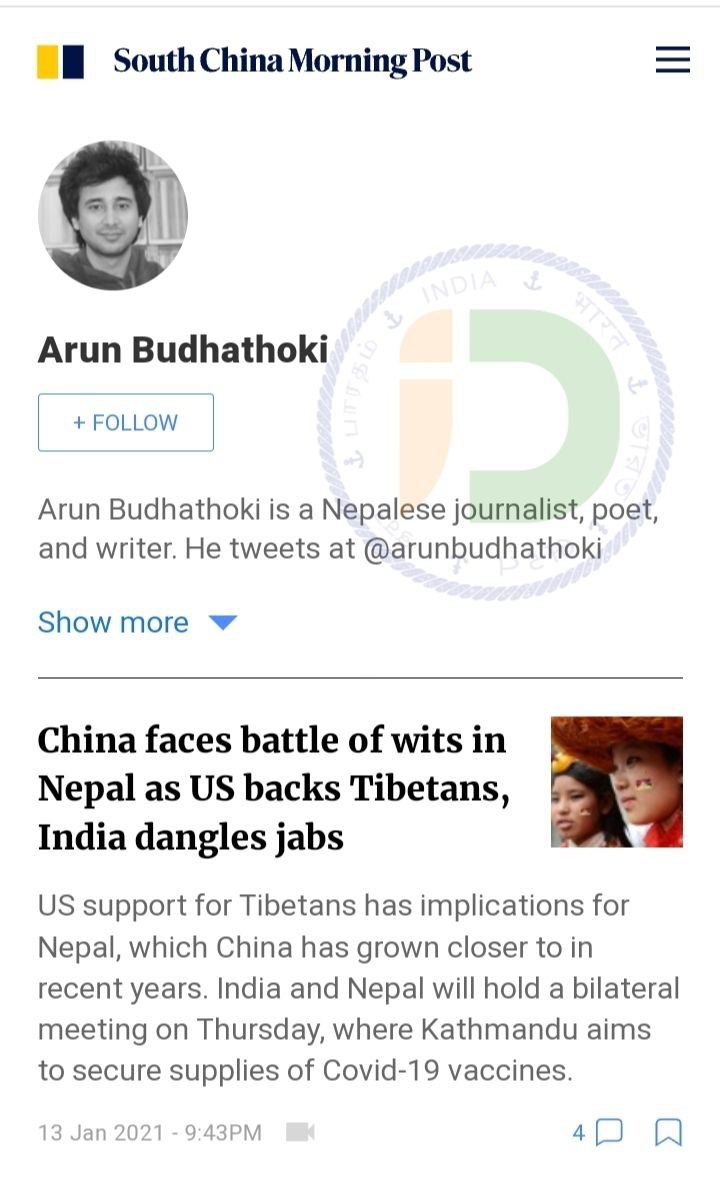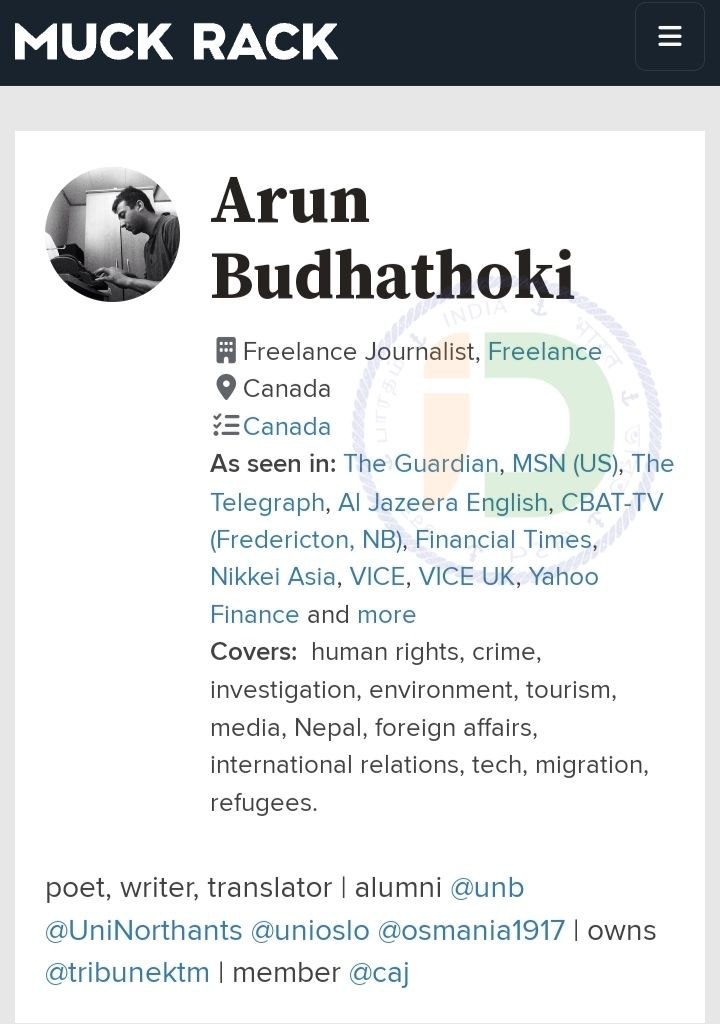 In summary, Arun Budhathoki's connections with Al Jazeera, TRT World, and the South China Morning Post reveal his active involvement in spreading narratives that are often anti-India and align with the interests of these respective news agencies. These associations contribute to the broader context of his controversial online presence and the narratives he promotes.
Arun Budhathoki – A Habitual India Hater!
Arun Budhathoki originated the propaganda campaign,#BackOffIndia hashtag on social media against India. This hashtag gained prominence as a symbol of anti-Indian sentiment in Nepal, particularly during a period of heightened tensions related to a border dispute between India and Nepal. He has abundantly made his stance on India clear through a series of tweets. These tweets not only reveal his anti-Indian sentiment but also shed light on his active participation in promoting hashtags like #BackOffIndia, which gained traction on social media in Nepal.
1. #BackOffIndia
In this tweet, Budhathoki directly utilizes the hashtag #BackOffIndia, emphasizing the importance of Lipulekh, Limpiyadhura, and Kalapani as integral parts of Nepal, as declared by the government. [archive]
#BackOffIndia
Lipulekh, Limpiyadhura and Kalapani integral parts of Nepal: Government https://t.co/5ReZSh824V via @kathmandupost

— Arun Budhathoki 🇳🇵 (@arunbudhathoki) January 16, 2022
2. Nepal's Parliament Endorses New Map
Here, Budhathoki celebrates Nepal's parliament officially endorsing a new map that includes disputed territories, characterizing it as a setback to India's neighbourhood-first foreign policy. He further accuses India of expansionist behaviour and bullying Nepal. [Archive]
Nepal's parliament officially endorses the new map — including (occupied by India) Kalapani, Limpiyadhura, and Lipulekh. A colossal blow to India's failed (neighborhood first) foreign policy. A reminder to India's expansionist behavior that it can no longer bully Nepal.

— Arun Budhathoki 🇳🇵 (@arunbudhathoki) June 13, 2020
3. Comparing India's Actions with China
This tweet parallels India's response to China's actions in Ladakh and its occupation of Nepali territory. Budhathoki accuses India of hypocrisy in its stance. [Tweet Deleted, Click here to see archive]
4. Demand for Nepali Media's Action
Budhathoki criticizes Nepali media for not speaking out against Indian journalists who allegedly entered Nepal illegally. He calls for increased pressure from the network using the hashtag #BackOffIndia. [Archive]
नेपाल भित्र अनाधिकृत रुपमा छिरेर अन्तरक्रिया गर्ने भारतिय जर्नेल,नेपालको भुमि कब्जा गर्ने भारत सरकार का बिरुद्ध कुनै मुलधारका नेपालि मेडिया ले बोल्दैनन् ।नेपालको यो परमादेस सरकार त तुइन काटेर नेपालि मार्दा समेत चुप बस्यो ।
आउनुस हामि सबै जना संजालबाटै दबाब बढाऔ!#BackOffIndia

— Arun Budhathoki 🇳🇵 (@arunbudhathoki) January 2, 2022
5. Concerns Over River Renaming
In this tweet, Budhathoki expresses concerns about India renaming the Mahakali River and emphasizes that India's illegal occupation of Nepali territories is unacceptable. He hopes for India to understand and return to the territories. [Archive]
India renaming the Mahakali River to hoodwink everyone will not go well in the coming years as the securitization is not justified. India's illegal occupation of Nepal's territories is not acceptable. I hope India will understand this and return the territories. #BackOffIndia pic.twitter.com/VzwDtQBZw9

— Arun Budhathoki 🇳🇵 (@arunbudhathoki) January 2, 2022
6. Views on Nepal's Democracy
Budhathoki expresses his opinion that Nepal needs a liberal democracy rather than a Hindu state, raising concerns about a potential return to previous ideologies. [Archive]
Nepal needs a liberal democracy not a Hindu state. Are we going to head back again? stupid.

— Arun Budhathoki 🇳🇵 (@arunbudhathoki) February 26, 2016
7. Allegations of Indian Interference
Here, Budhathoki alleges that India won't allow Nepal to progress unless the government reverts to being a Hindu state and scraps federalism, suggesting Indian interference in Nepal's affairs. [Archive]
apparently, India won't allow Nepal to become stable and progress unless the govt reverts the decision to Hindu state and scrap federalism!

— Arun Budhathoki 🇳🇵 (@arunbudhathoki) September 10, 2016
8. Controversial Remarks on India and Hinduism
In a provocative tweet, Budhathoki makes controversial statements about India and Hinduism, suggesting that India should turn into a Hindu nation and make dire predictions. [Archive]
India should turn itself into a Hindu nation and die along with the religion.

— Arun Budhathoki 🇳🇵 (@arunbudhathoki) June 26, 2016
In addition to his tweets against India, it is important to note that Arun Budhathoki's views and intent are not limited to targeting India alone. He equally targets Hindus, whether from India, Nepal, or various other locations. His tweets often reflect a stance that is critical of Hindus in general, irrespective of their geographical origin.
D-Intent Data: Exposing Misinformation
Our organization, D-Intent Data, takes pride in meticulously researching and exposing biased accounts spreading misinformation and religious hatred propaganda under false identities. Moreover, we will continue to work for India and will continue to expose anyone who hurts India's interest. Previously, we unmasked similar Pakistan-based accounts promoting propaganda, such as @SouthAsiaIndex, @DalitOfficial, and @SAHR_Watch, shedding light on their false agendas.
The journey of @SouthAsiaIndex ,a 🇵🇰Pakistan-based propaganda account that runs anti-India propaganda through invented stories and biased reporting under the name of South Asia Index. (1/7)

The account is run by a Pakistani, explosive thread – pic.twitter.com/nvuSQuZLz0

— D-Intent Data (@dintentdata) September 22, 2023
Actual story of a #PakistaniGirl running South Asian Human Rights Watch (SAHRW).
An account impersonating "SAHRW" organization circulating multiple old videos with fake claims to target India. In reality she belongs to #ISPR team, guided for this project for long.(1/13)
A Thread- pic.twitter.com/61hOk4dfG6

— D-Intent Data (@dintentdata) March 31, 2023
Conclusion
Arun Budhathoki and his propaganda narrative, aimed at hurting India and portraying Hindus in Canada as unsafe due to Indian influence, has been debunked and exposed as misleading. The reality of rising Hinduphobia in Canada remains a pressing concern for the Indian diaspora. Following a precise analysis and fact-checking, our team has reviewed the claim. Moreover, you can refer to the findings of this inquiry in the Twitter thread below.
A Nepalese Hindu journalist, Arun Budhathoki, living in Canada, thinks Hindus in Canada are setting fake narratives of feeling unsafe in the country amid #IndiaCanadaTensions . He always finds his way to target India. Let's dig into who is this person. (1/8)

A brief Thread – pic.twitter.com/ApKuCLzoM8

— D-Intent Data (@dintentdata) September 26, 2023
Best Suggestions to Read from Propaganda Files:
Exposed: A Pakistani Impersonating an Indian Citizen Circulate Fake News About Indian Army Has Been Uncovered
Exposed: Pakistan-Based Fake Propaganda Account "South Asia Index" Unmasked